IRIS & FibreCRM: The Perfect Partnership for Your Modern Practice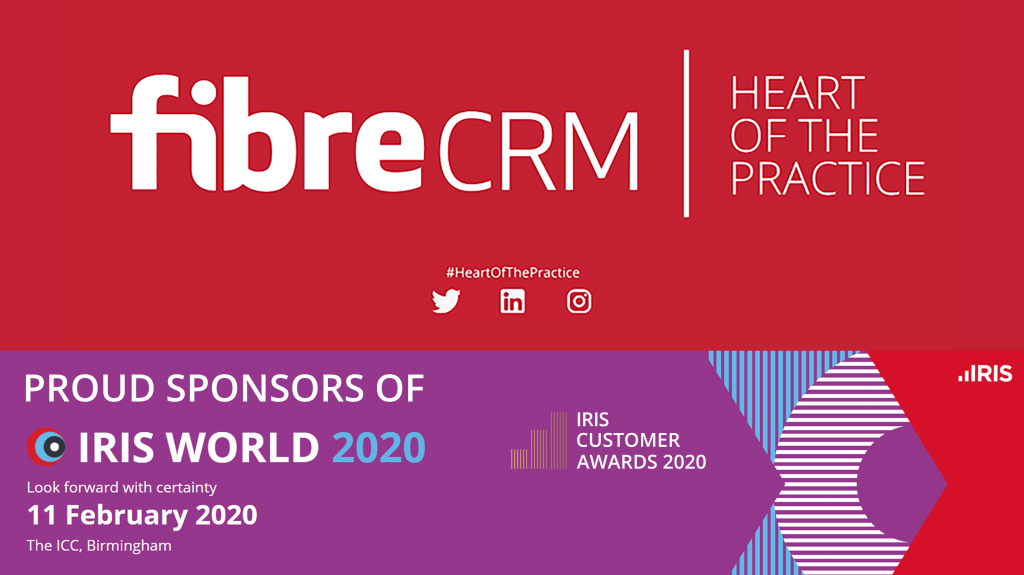 Integration is a common place issue for many accountants who come to us seeking a CRM solution to help streamline and grow their practice. Many of them are thrilled to learn that we can work seamlessly with their existing practice management software such as IRIS. 
When developing our CRM solution, we recognised that many practices have multiple, independent client data silos that only work best when all the information is painstakingly cross-referenced by hand.  
Good news. The dark age of data silos is over! 
If your practice is currently using IRIS to process your client data, you have a rich supply of information that is only valuable when laborious and time-consuming data-mining processes are implemented. Even then, the data is out of date as soon as it is recovered.  
What you need now is a fully integrated CRM platform to surface and master your client's data – updated from IRIS to CRM every 30 minutes – so that you make the most informed, data driven decisions to help grow your practice and provide the best service possible for your clients.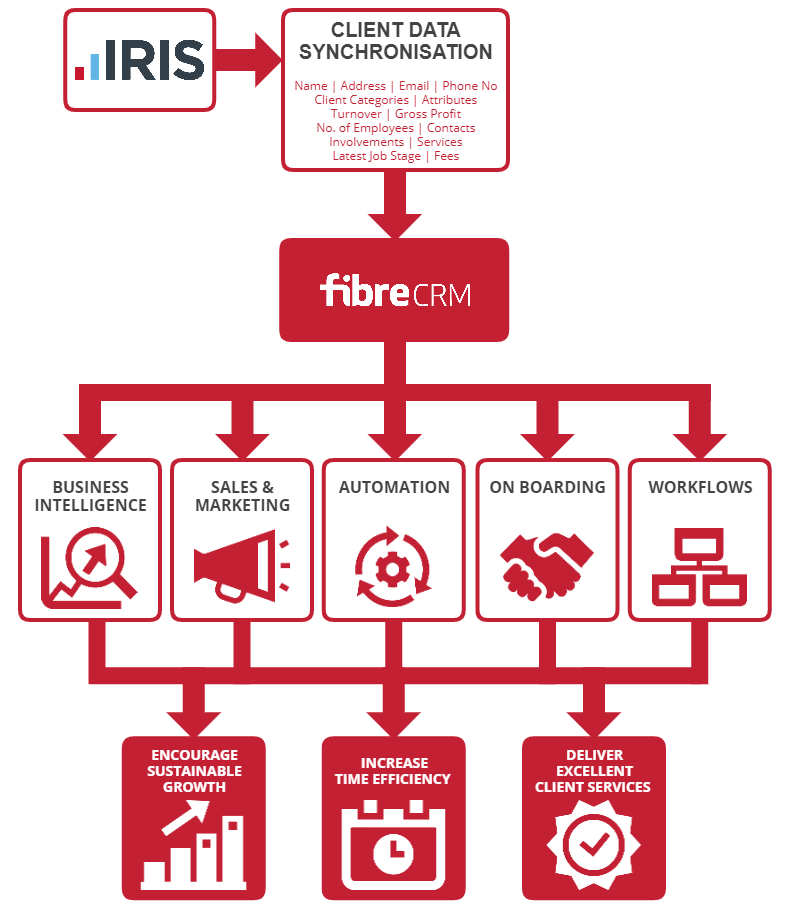 BUSINESS INTELLIGENCE  
Right out of the gate, FibreCRM can provide standard, editable reports as well as flexible BI tools. You can identify gaps in your client data, build dynamic marketing lists & responsive sales strategies based on a variety of client data parameters.   
"The focus was to eliminate inefficient data silos and connect the main IRIS database to the email marketing system. So, the original reason to invest in FibreCRM was that it is CRM for IRIS accountants because integrates with IRIS database. This addresses the problems of data silos, reduces the cost and improves the effectiveness of our communication." 
                                                                                               Lee Manning, Partner – Raffingers 
SALES & MARKETING 
Powerful marketing tools built into FibreCRM let you segment your client data. Create personalised & highly targeted client communications and email marketing campaigns supported by integration with marketing automation systems such as Campaign Monitor and MailChimp. You can also promote & coordinate events and manage newsletter subscriptions with GDPR compliant opt-in/opt-out functionality. Post-campaign reporting tools will let you monitor open rates, CTRs and campaign engagement to better understand what your clients responding to. 
With FibreCRM, any change to a Client record in IRIS flows through to FibreCRM whether it's updating an IRIS Attribute, Category of Job. Your marketing lists remain up to date automatically.  
"Our requirement was mainly marketing, and expansion orientated, in that we felt our system of recording and developing leads and new client enquiries could be improved. Previously our methods of recording this information involved an assortment of lists, spreadsheets and in-trays with piles of handwritten notes of speculative calls from prospective clients. Follow ups were not as systematic as they could have been and there was a risk opportunity to secure new work, could have been missed." 
"[With FibreCRM] We can now flag up opportunities in targeted email marketing campaigns to existing clients and professional introducer contacts, using emails branded and designed with a promotional emphasis, through an integrated email marketing system." 
                                                                           Mark Thompson, Partner – Rennie Welch LLP 
AUTOMATION 
FibreCRM monitors to your IRIS Practice Management Job Stages and knows when to send your clients a friendly reminder to submit required information. Create & schedule messaging templates (whether you prefer reminders to go via email, SMS or both) and then sit back & let FibreCRM do the rest.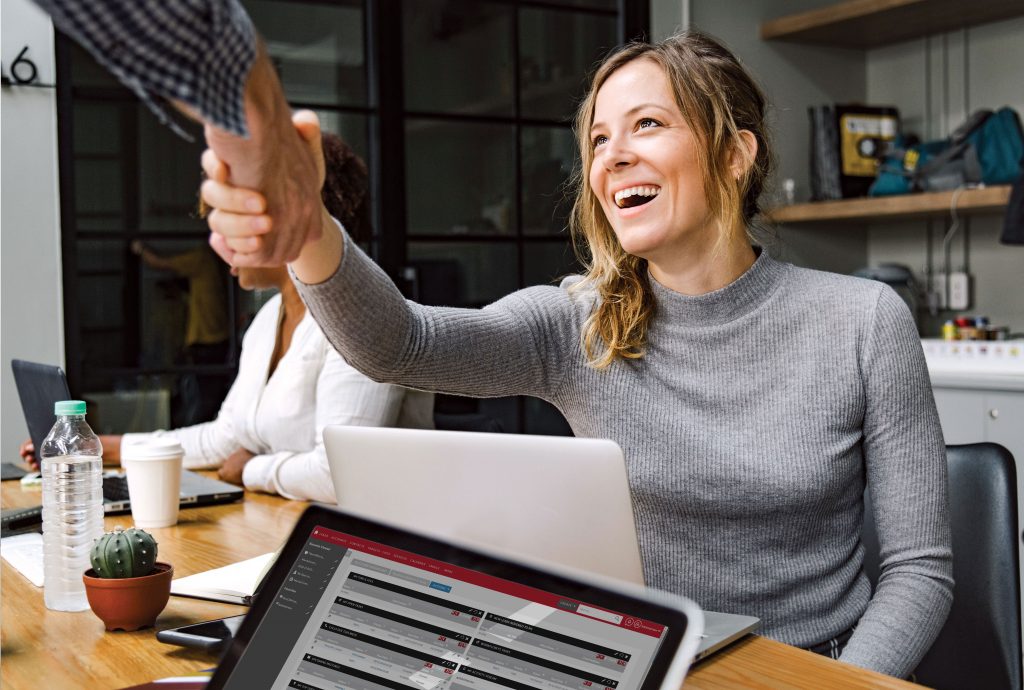 ONBOARDING 
FibreCRM follows and streamlines the IRIS client onboarding processes such as:
Proposal Generation 
Letter of Engagement (with e-signature)  
Client Portal – Information Requests & Submissions 
Mandatory Fields Management – highlighting outstanding required data  
"Know Your Client" KYC Checks – PEPs, Sanctions Conflict Checking 
AML Assessment  
Gathering all the necessary information and prompting onboarding teams for any missing data. Automated email and SMS alerts and can be triggered when data is submitted by the client and tasks instantly assigned to the team member responsible for the next stage – drastically reducing the onboarding process timescale.  
When every stage of the onboarding process is completed and approved, the client is then automatically uploaded into IRIS, removing the need for data re-entry. Identify gaps and delays in your client onboarding process using FibreCRM reporting tools to monitor and analyse turnaround times. 
"We are keen to start the client journey using FibreCRM to take on clients – the onboarding module will save time, improve the client experience and help us with the "Know Your Client" requirements." 
"The plan is to map out the entire client journey and make sure we are touching clients at all the key points. We want to set up triggers, so the CRM notifies the partner to get in touch with the client or sends out an automated email. This will enable us to be proactive but make our life easier because the CRM will be doing the hard work for us." 
                                                                                              Lee Manning, Partner – Raffingers  
WORKFLOW 
Practices monitor their job management processes to ensure the practice is operating efficiently. It helps to identify where delays occur in their job stages so that time-hungry processes can be identified and dealt with. FibreCRM's Job Turnaround module lets you set performance thresholds for different Job types so that you can keep track of KPIs. 
"One of the things we are most proud of is getting the first automation workflows set up because they save time across the practice. Integration of the CRM into the day to day work means we can be consistent. It also means everyone can see the benefit of CRM, not just me as the Marketing Manager." 
                                                                                             Lee Manning, Partner – Raffingers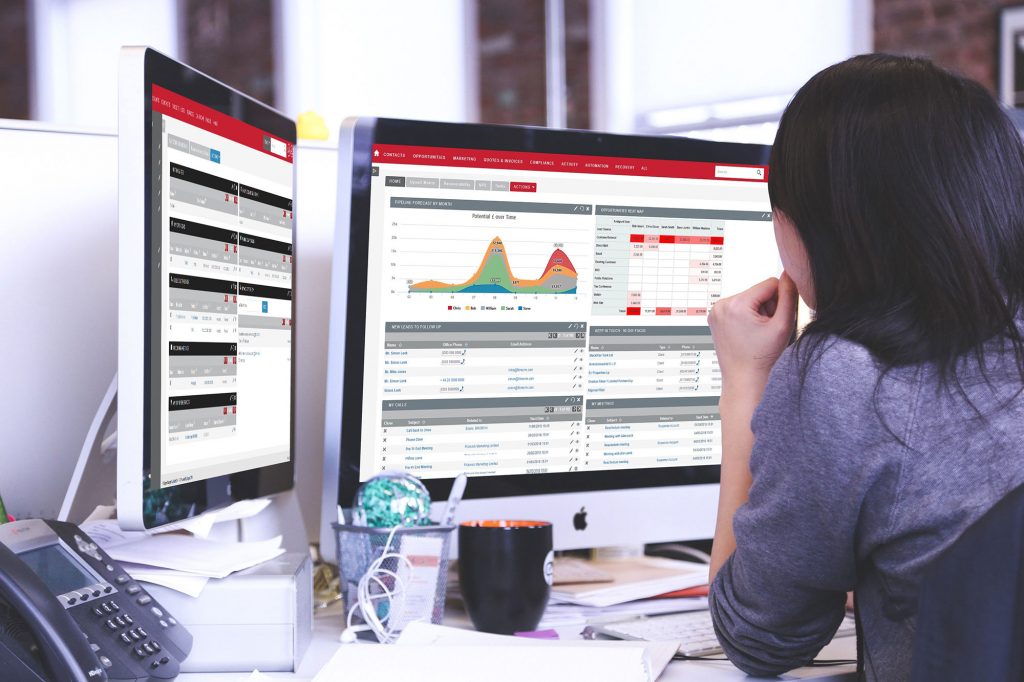 This is just the beginning of how FibreCRM integration with your IRIS practice management software can revolutionise and future-proof your practice. Going far beyond any other CRM by helping accountants to build stronger, long-lasting relationships with clients. Connecting knowledge, information and systems from every corner of your practice to create a single, truly integrated central client management and communication solution.  
"We would encourage all forward-thinking accountancy practices to consider the merits of making the same FibreCRM move to our own." 
                                                                      Mark Thompson, Partner – Rennie Welch LLP 
"The profession needs to become more client focused, and automatic workflows will free up time for everyone and help us achieve that goal. FibreCRM will make everyone happier because it will remove the frustrations." 
                                                                                            Lee Manning, Partner – Raffingers 
Discover more about the power of FibreCRM in your IRIS practice. 
OR
Visit us at IRISWorld 2020 – The ICC, Birmingham – 11th Feb 2020  Reserve your seat HERE