Leading U.S. Accounting Firm Adopts Cornish-based CRM Provider FibreCRM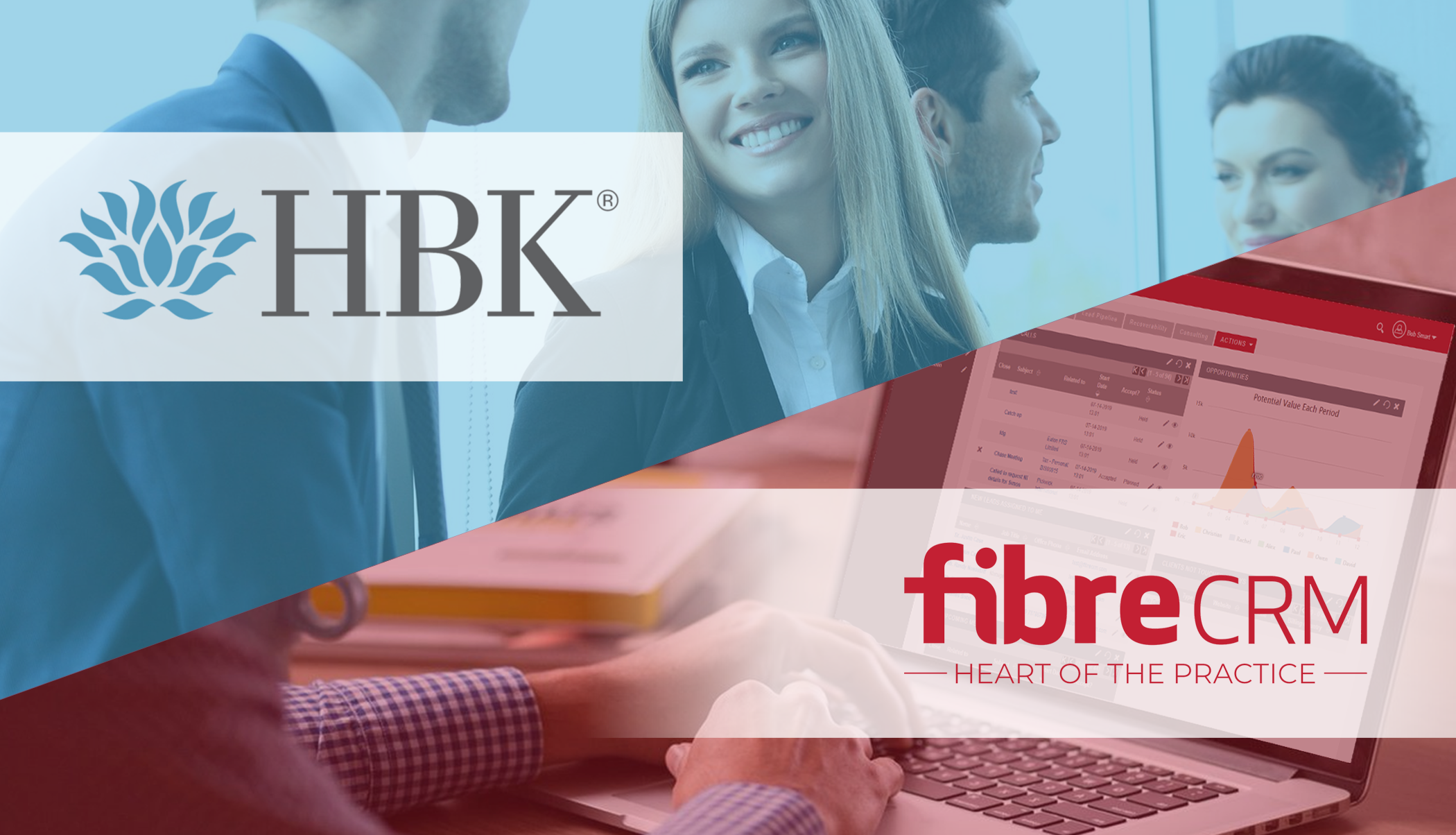 FibreCRM, provider of leading Client Relationship Management software for mid to large accounting and CPA firms, today announced that HBK CPAs & Consultants (HBK), a Top 100 U.S. CPA firm, is leveraging FibreCRM's technology and processes to drive the firm's digital transformation. HBK is adopting FibreCRM's 'Integrated CRM' technology to streamline operational processes, create a world-beating client care programme and drive new revenue.
"This is one of, if not the most important initiative we have taken on in years,"
noted HBK Managing Principal and CEO Christopher M. Allegretti. "It is critical to our ability to remain competitive."
The rise of an all-connected digitally astute business is requiring firms to connect their traditionally disconnected practice management software with their digital marketing assets. Firms are going through a revolution as they seek new lines of service delivery and surface knowledge that can be used to open up new markets and maximize client lifetime value.
"CRM is a game-changer for us, altering the way we do business internally and externally,"
Allegretti said. "As a central hub of information, it transforms us to a data-driven decision-making model. It reforms how we communicate with our clients to get every client relevant information at a relevant time. It will improve our ability to identify needs and respond with appropriate solutions."
HBK counts more than 20,000 clients advised by professionals working out of 17 autonomous locations. CRM will streamline their interactions, drive efficiencies and support revenue growth targets.
"We spent more than a year evaluating various CRM solutions," said HBK Marketing Director Gabriella Dera, who spearheaded the initiative for HBK. "Our criteria included the ability to integrate with our practice management database and provide our team with easy-to-use tools to better manage sales opportunities and client engagement. We were impressed by the functionality of the FibreCRM platform, especially the customizable workflows, reporting, and mobile app features. But, what separated FibreCRM from others was their success record implementing CRM solutions in the accounting industry and the best practices they could share as our technology partner."
Building a digital platform
To support HBK's goals of transforming sales, marketing and client onboarding processes, the FibreCRM solution will:
Create a central database of all clients, prospects and referrers and capture all communications and every touch point
Support HBK's digital transformation by delivering digital marketing capabilities and integration with leading marketing automation platforms
Deliver a common and consistent approach to client interactions
Support HBK's growth through effective lead generation campaigns and well managed pipelines
Ensure the client journey from initial inquiry through onboarding and after-the-sale care was world class, efficient and highly valued by clients and HBK staff
Streamline the creation of proposals and engagement letters
Automate the creation of new clients and jobs in StarPM and keep data between CRM up to date and relevant
Maximize the lifetime value of a client by delivering world class client service, customer satisfaction monitoring and maximizing cross-selling opportunities
HBK provides small to mid-market businesses and their owners and operators a wide range of financial solutions, including accounting, tax and audit services; wealth management; business valuation; corporate finance; forensic accounting; litigation support services; and business consulting, including specific expertise in a number of major industries. The CPA firm dates back to 1949 and added its wealth management practice in 2001.
The financial professionals of HBK CPAs & Consultants and HBKS Wealth Advisors serve clients locally out of offices in Columbus, Youngstown and Alliance, Ohio; Pittsburgh, Philadelphia, Erie, Hermitage, Meadville and Blue Bell, Pennsylvania; Princeton, Cherry Hill and Clark, New Jersey; and Fort Myers, Naples, Stuart, Sarasota and West Palm Beach, Florida. HBK CPAs & Consultants and HBKS Wealth Advisors are both Top 100 rated firms. HBK ranks 56th in Accounting Today's largest U.S. CPA firms with revenues in excess of $100M. 
FibreCRM provides mid-large accounting and CPA firms with specialist client relationship management software (CRM) and best practices.  Operating since 2007, FibreCRM has accounting clients both in the UK and USA with its main office located in Cornwall, England.  In 2019 FibreCRM was finalist for software innovation of the year in the prestigious Accounting Excellence Awards.  For media related information contact Grant Alexander – grant.alexander@fibrecrm.com